Electoral College Vote Map Projections before 2016 Presidential Debates – Roundup: Hillary Clinton Tops Donald Trump in Several Predictions
First Posted: Sep 23, 2016 07:45 AM EDT
Hillary Clinton still holds a steady electoral college vote lead over Donald Trump in their volatile race for the White House.
With several critical battleground states still billed as too close to call, the latest 270toWin poll shows Clinton holding off Trump 200 electoral votes to 163.
Among the states safely counted as in the former first lady's column are California, Oregon, New Mexico, Minnesota, Illinois, New York, Virginia, Maine, Rhode Island, Connecticut, New Jersey, Delaware, Maryland, D.C. and Hawaii.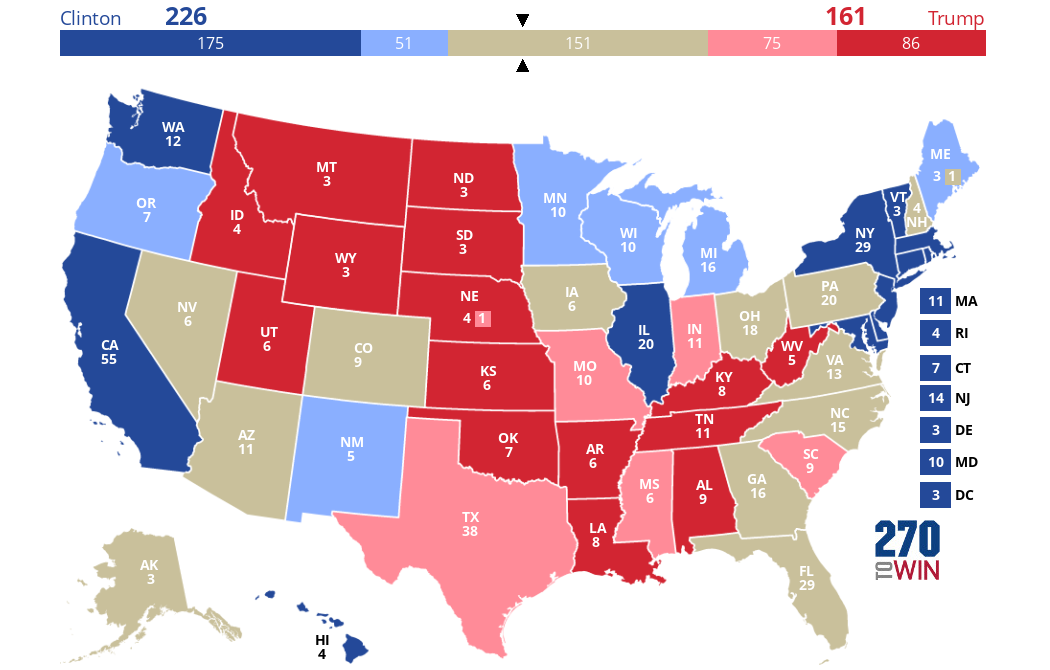 Click the map to create your own at
270toWin.com
Battleground States key
Remaining tossup states are viewed as Nevada, Arizona, Colorado, Wisconsin, Iowa, Ohio, Michigan, Pennsylvania, Virginia, New Hampshire, Georgia, North Carolina and Florida.
Meanwhile, Trump leads in Montana, Utah, Idaho, Wyoming, North Dakota, South Dakota, Kansas, Oklahoma, Texas, Missouri, Arkansas, Louisiana, Indiana, Kentucky, Tennessee, Alabama, Mississippi and South Carolina.
A recent Real Clear Politics electoral vote polls finds similar results, with Clinton on top 200 to 164 with 174 votes remaining undecided.
States considered likely or leaning toward Clinton include Rhode Island, Washington, Delaware, New York, Maine, Minnesota, Oregon, New Mexico, Connecticut, Illinois and New Jersey.
Pollsters find Ohio, Florida, Iowa, Colorado, Nevada, Arizona, Michigan, Wisconsin, Pennsylvania, New Hampshire, Virginia, North Carolina and Georgia still too close to call, while Trump is running ahead in Missouri, Indiana, South Carolina, Texas, Nebraska, Utah, Mississippi, Montana, Louisiana, South Dakota and Kansas.
Pennsylvana Critical
In the latest Freedoms Lighthouse poll, Clinton also tops Trump by a count of 217 to 180.
Unlike the 270toWin and Real Clear surveys, pollsters at Freedom Lighthouse find Clinton running ahead in Pennsylvania, a state Democrats have claimed in each of the last six presidential elections.
In 2012, Obama topped Romney by five points to secure the state's 20 electoral votes.
A recent Morning Call/Muhlenberg College general election poll also found Clinton running ahead of Trump in the state by an eye-popping nine points. Conducted between Sept. 12-16, the survey of likely voters showed Clinton at Clinton at 47 percent to Trump's 38 percent.
The two candidates are slated to come face-to-face for the first of three debates on Monday night, September 26 on the campus of Hofstra University in upstate New York.
NBC anchor Lester Holt will serve as moderator of the 90-minute session, putting the pair through the paces where the topics will range from "America's Direction," to "Achieving Prosperity," to "Securing America."
© 2015 Latin Post. All rights reserved. Do not reproduce without permission.